Our new online system for mobiles, tablets, computers, SmartTVs
Our Call Forward and Ticket Queue Systems
Our sophisticated range of Queue Management Software
Queue Management Systems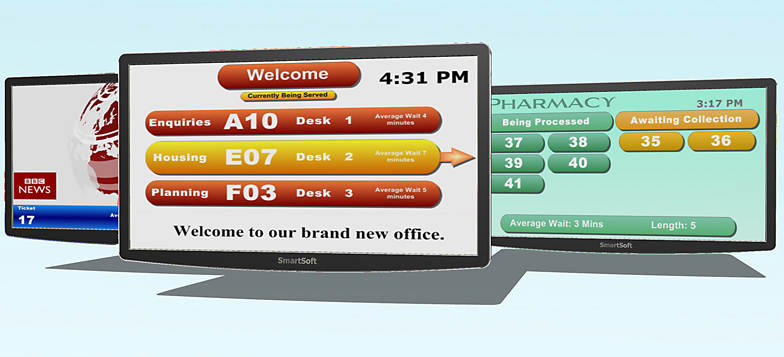 Ctronix is the Welsh design company
that creates and manufactures the UK's most innovative and widely used Queue Management systems and displays.
Established in 1979, our Queue Management design team have developed the most extensive list available of both hardware and software products and we have a range to suit every type of Queuing application.
DigiQ® is our hardware Queue Management System with superb sound and our unique, brilliant Ultra Blue LED display. It comes with a selection of chimes and superb MP3 speech in English and Welsh. DigiQ is extremely versatile and can be configured to run Call Forward or Ticket controlled Queues with up to 30 positions. For Ticket systems, DigiQ can run with pre-printed tickets supplied on a roll or tickets printed on demand using a POS style desktop printer. DigiQ can be operated by Wire Free push buttons or System16 keypads and is designed for easy Self-Installation.
Smartsoft® is our comprehensive suite of Queue Management software programs. They can be run under Windows 10 and our Smartsoft Self-Install option has proved to be a cost-effective way for Councils to create a feature-rich Queue Management System. Smartsoft installations can be found in Local Authorities and Retail Stores throughout the UK and Ireland, with recent case studies on our News pages.
qmachine® is our new online Queue Management System for Mobile, Tablet, Computer and SmartTV.
Ctronix - from LED display to Web display, we offer the full range of Queue Management solutions.